hotels and apartments
sport and leisure
localities
information

Your search
4- and 5-star-hotels Alta Badia
The family-run Hotel Ciasa Soleil is situated in the heart of La Villa in a quiet and sunny area, far from the tumultuous commotion. It is the right starting point for walking tours and ideally placed for motorcycle and bike fans.
deals
01/07 - 03/10/2021

from 114€ per night

05/09 - 03/10/2021

from 90€ per night

04/12 - 23/12/2021

from 426€ for 4 nights
Characteristics
Your hotel in Alta Badia - The valley of superlatives. Alta Badia, a skiers' and hikers' paradise resting in the heart of the unforgettable Dolomites of South Tyrol. Amidst this idyllic landscape, Sport Hotel Panorama represents the perfect starting point for many activities.
Your hotel in the Dolomites, UNESCO Nature World Heritage Site in South Tyrol: Begnodüs in La Majun. There, where the mighty Puez-Geisler and Fannes-Sennes-Prags (part of the Dolomites) cast their mighty shadow – that's where you'll find the Hotel La Majun.
deals
28/08 - 02/10/2021

from 720€ for 4 nights

03/12 - 19/12/2021

from 894€ for 4 nights
Characteristics
S. Cassiano - Armentarola
The Gran Paradiso Hotel is nestled amidst forests of spruce, Swiss pine, and larch in the beautiful and lush area of Armentarola. It is situated on the slopes of the Lavarella and Conturines Massifs and encircled by the evocative and bewitching landscapes of the Dolomites.
deals
02/12 - 22/12/2021

from 346,50€ for 4 nights

20/03 - 10/04/2022

from 832€ per week
Characteristics
Dating back to 1912, the Romantik Arthotel Cappella has a long tradition of hospitality. It was built in 1969 with sensitivity and passion and in 2000 was turned into a luxurious centre of well-being, blending modern art, rare ethnic pieces and hand-crafted furnishings.
deals
04/12 - 18/12/2021

from 277€ per night

20/03 - 10/04/2022

from 277€ per night
Characteristics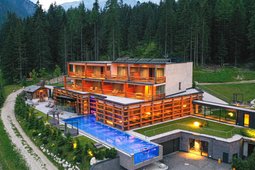 The Hotel Cristallo in Alta Badia is located between the villages of La Villa and Corvara near the forest at the foot of Gran Risa, in a peaceful position where you can live in close contact with the nature. An elegant and cozy atmosphere in a pleasant and stylish environment.
deals
09/09 - 02/11/2021

from 861€ per week

09/09 - 02/11/2021

from 880€ per week

26/09 - 02/11/2021

from 369€ for 4 nights
Characteristics
Colfosco is a small mountain village situated at the foot of some of the most beautiful Dolomitic peaks, like the Sassongher Peak, the Ciampac Peak and the stately Sella Group with its 3152 meters high Piz Boé.
deals
03/12 - 22/12/2021

from 690€ for 4 nights

20/03 - 10/04/2022

from 1380€ per week
Characteristics
The Hotel Gran Ciasa is located in the centre of Colfosco encircled by the Sella Group, Ciampac and Sassongher. The hotel provides an ideal accommodation for those who want to spend their summer or winter holidays.
The Hotel Ciasa Lara is situated in Val Badia, surrounded by the Dolomites and by green meadows or covered with snow, near the Gran Risa ski slope. Its furniture is a combination of modernity and tradition, comfort and attention to details.
This hotel is situated in a quiet, sunny, very panoramic position with a wonderful view of the amazing Dolomites. In winter, ski enthusiasts are right on the ski slopes and in summer it's an ideal destination for trips, mountain walks, hikes and climbing tours.