hotels and apartments
sport and leisure
localities
information

Your search
Bed & Breakfast Colfosco
Colfosco: b&b, rooms with breakfast
Garni Declara is located in Colfosco, in a beautiful panoramic position surrounded by meadows and breathtaking mountains, 5 minutes on foot from the centre and 10 minutes from the ski lifts. In the house you will find a familiar atmosphere that will make you feel at home.
You'll be given a most friendly welcome at the Garni Larix. The family Castlunger and the valley are famous for their cordiality! The house is situated in Colfosco in Alta Badia, right in the heart of the famous Sellaronda, in a peaceful and sunny area with a magnificent view.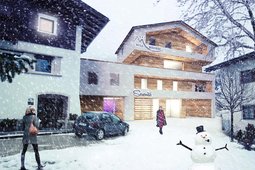 The peaceful and romantic Bed & Breakfast Melissa, located in the center of Colfosco, is an accomodation facility run by the Conrater family and surrounded by the characteristic Dolomites. Gaze out over the hills, overgrown with gentians, lemon balms and edelweiss.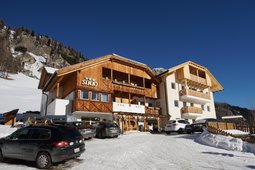 Many people know by now the renowned touristic area of Alta Badia, with its natural beauties, its majestic peaks, its culture, its exclusive services and its impeccable ski slopes. Everyone has heard about the charm of Dolomites, recognized as natural word heritage in 2009.
Are you longing for a relaxing holiday in the Dolomites? The PIZ Alpin B&B is the ideal holiday destination for families, couples and all those who appreciate an excellent location, family hospitality and pleasant tranquillity. Located in Colfosco in Alta Badia at 1545 m.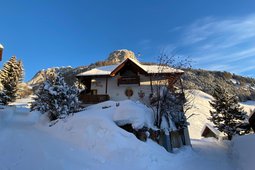 The Garni is situated at the foot of the splendourful Sassongher on 1650 m. It offers you a familiar and calm atmosphere. The house lies in a calm and sunny position, only few steps from the village center, and in close proximity to the ski runways.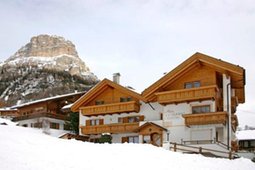 The Garni Cristin is situated in an overwhelming, very quiet and sunny position, with a breathtaking view of the Sella Massif in the Dolomites. The world's most beautiful mountains are right in front of you.
Ciasa Iris is located in a quiet and panoramic location in the centre of Colfosco, in the heart of the Dolomites. The house offers comfortable single and double rooms.
The B&B Lärchenhof is situated in Colfosco, in the heart of the Dolomites. It is located in a quiet, sunny location with wonderful view over the village and the Sella group. Here you can totally relax in a cozy and friendly atmosphere...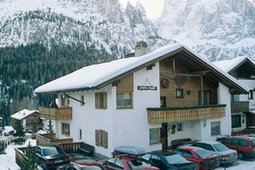 The Garni Pera Lada is located in Colfosco, in the Badia Valley, in a position close to the ski slopes of the famous Dolomiti Superski area, the largest ski resort in the world. Pera Lada has four double bedrooms, two family rooms and an apartment.