hotels and apartments
sport and leisure
localities
information

Your search
Hotels Colfosco
Colfosco: small hotels, pensions (guest houses), aparthotels
Arriving to Pension Mirandola you will be welcomed with a kind hospitality. Here you will find not only a particular attention to details, but also a romantic atmosphere, typical of Ladin houses.
deals
03/12 - 24/12/2022

from 498€ for 4 nights

18/03 - 25/03/2023

from 996€ per week

25/03 - 11/04/2023

from 583€ per week
Characteristics
The small Hotel, called Pension Haus Erica, is located in Alta Badia in the village of Colfosco at 1,700m above sea level and is opened all year. The Pension is family-run and can be easily reached by car. The Pension is embedded in the greenery and located near the ski slope.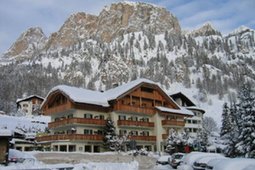 The Hotel Borest is located in Colfosco, about 2 km from Corvara, in the Badia Valley, one of the most famous destinations of the Dolomites, which have become in June 2009 a Unesco World natural heritage.
deals
01/12 - 24/12/2022

210€ for 4 nights
Characteristics
The Hotel Gran Ciasa is located in the centre of Colfosco encircled by the Sella Group, Ciampac and Sassongher. The hotel provides an ideal accommodation for those who want to spend their summer or winter holidays.
deals
02/12 - 24/12/2022

from 402€ for 4 nights

25/03 - 11/04/2023

from 432€ for 4 nights
Characteristics
Dating back to 1912, the Romantik Arthotel Cappella has a long tradition of hospitality. It was built in 1969 with sensitivity and passion and in 2000 was turned into a luxurious centre of well-being, blending modern art, rare ethnic pieces and hand-crafted furnishings.
Dear friends of the Pension Crëp Sella, the Family Costa has dedicated themselves with so much love to every corner of the Pension, to create a welcoming environment where you can feel at home.
This guest house - that offers also b&b and apartments - enjoys a wonderful view and is situated in a calm and sunny position in the midst of the wonderful Sella group.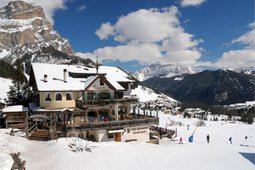 Friendliness, spontaneity and the warm Ladin atmosphere create a quiet and genuine ambience in the hotel, which is managed by Roberto Erlacher's family, a former "Azzurro" of the Italian national ski team. In Colfosco, renowned touristic destination in Alta Badia.
Colfosco is a small mountain village situated at the foot of some of the most beautiful Dolomitic peaks, like the Sassongher Peak, the Ciampac Peak and the stately Sella Group with its 3152 meters high Piz Boé.
"Begn odüs" to the Jägerhof Hotel in Colfosco, in the Alta Badia area! The hotel has charming rooms, all of them with balcony, shower and WC, comfortable living-rooms, a bar and a restaurant. You can also take advantage of the wellness area "i m o bun".