hotels and apartments
sport and leisure
localities
information
Ski schools and instructors
Colfosco - Str. Sotdlijia, 17
The Ski & Snowboard School Colfosco is the ideal place to learn exciting activities or to refine your abilities on the snow. Since it is located directly on the slopes of Colfosco, it allows you to quickly and comfortably reach any type of slope.
S. Cassiano - Strada Surega, 34
If you want to learn skiing or snowboarding or if you want to improve your technique please apply to the ski school San Cassiano with its ski instructors; they all have a lot of experience and know the current teaching methods for skiing, snowboard, telemark,...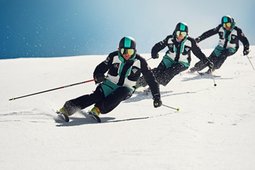 S. Cassiano - c/o stazione a valle cabinovia Piz Sorega
The Ski & Snowboard School Dolomites offers great ski lessons in Alta Badia in four different locations: La Villa, San Cassiano, Armentarola and Piz La Ila. What are its strengths? Love for the mountains, a passion for skiing, professionalism and courtesy!
La Villa - Str. Colz, 127
Ski school Dolomites: quality, experience and fun for an unforgettable holiday full of entertainment and safety... experience unique emotions on the snow of Alta Badia, accompanied by a team of young, enthusiastic instructors and mountain guides.